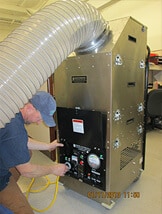 Why Choose Harris Services for Your Duct Cleaning?
Superior Equipment – Harris had made a significant investment in the finest HEPA-filtered High-Powered Systems available. Harris uses the most advanced source Removal Equipment available
The HEPA-AIRE method uses blasts of compressed air through rods to create a "whipping" action
The AIRE-SWEEP Agitation method involves the use of a rotary brush to loosen debris in virtually any type of duct
Experience – our experience and success in Indoor Air Quality inspections and duct cleaning is a testimony to our commitment to Bloomington, Indiana area homes and businesses.
Investment – Harris is a locally owned business whose commitment to Indoor Air Quality for industrial, commercial and residential properties is reflected in the quality of equipment we use on your property.
When is it time for Your Duct Cleaning?
Do you suffer from chronic headaches, dry skin and eyes, allergies, fatigue, nausea or shortness of breath?
Air Duct Cleaning helps to reduce triggers to these problems as well as asthma and allergies by removing the 9 top triggers that contribute to asthma attacks and allergy symptoms. These triggers include:
Dust Mites
Mold
Second-Hand Smoke
Cockroaches and Pests
Pet Dander and Hair
Wood Smoke (solid burning fuels)
Outdoor Air Pollution
Nitrogen Dioxide (from gas burning appliances and utilities)
Chemical Irritants
Air Ducts are the veins of comfort in your home. You know that they are there, they seem to do their job efficiently enough, but most people just forget them. Have you ever had your Air Duct Cleaned?
Duct Cleaning services include the cleaning of heating and cooling components, which include the air and duct registers, grilles and diffusers, heat exchangers, heating and cooling coil, drip pans, and fan motor and housing. If not properly installed, maintained, and operated, these components will become contaminated with dirt and debris and will reduce the efficiency of your HVAC system.
Benefits Of Clean Air Ducts
Improve the health of your home and family
According to the EPA, the air inside the average home is approximately five times more polluted than the air outside. Pollutants can cause poor indoor air quality thus causing dizziness and headaches which also can aggravate allergies and asthmatic conditions.
Energy Savings
When dirt and debris are removed from ductwork, it means that the fans and motors that power your furnace do not have to work as hard to push air. Air distributes better and faster over a smooth surface, free of debris.
When we leave your home or office your HVAC system will be running more efficiently and you will be breathing easier with fresh, clean air. Call Harris Services today at (812) 824-5055.